About
About Dr. Wolff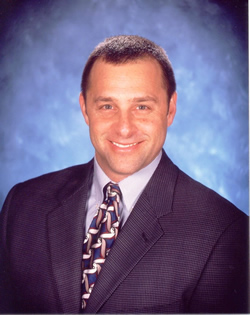 Dr. Wolff has been a practicing Orthopedic Surgeon in Cumberland, Maryland since 1995. He grew up in suburban Baltimore and obtained his Bachelor of Science degree from Towson University in 1983, graduating Summa Cum Laude from the Biology program. He earned his Doctorate of Medicine from the University of Maryland in 1989. Upon graduating from medical school, he was awarded a certificate of outstanding achievement to the University of Maryland for service as president of his class for three consecutive years.
He completed his surgical internship and Orthopedic Surgery residency at the University of Maryland at Baltimore in 1994. Dr. Wolff was then chosen and completed an Orthopedic Sports Medicine fellowship at the University of Oklahoma and is the only fellowship trained sports medicine physician practicing in Western Maryland. While in Oklahoma, Dr. Wolff participated directly in the care of victims of the Murrah Federal Building bombing in April of 1995. In July of 1998, Dr. Wolff earned his Board Certification in Orthopedic Surgery and in July of 1999, he was honored by his peers and was selected as a Fellow of the American Academy of Orthopedic Surgeons. In 2004 he served as President of the Medical Staff of the Western Maryland Health System.
Dr. Wolff has been a member of the U.S. Navy Reserve since 1989, and is currently attached to the Naval Hospital in Bethesda, Maryland, supporting the Department of Orthopedic Surgery and participates actively in the ongoing care of Operation Iraqi Freedom wounded. Annual training tours have taken him to various commands around the world that include Australia and Sicily.
In 2005, then Commander Wolff was deployed for 9 months to the US Military Hospital, Kuwait as Orthopedic Surgery Department head. During his tenure of deployment and under his leadership, the Orthopedic Department treated over 8000 service members and performed over 400 surgeries, which greatly expanded the capabilities and mission of the hospital. He has served his units in numerous leadership roles and has just been selected to the rank of Captain. During his military career, Commander Wolff has earned four Navy Commendation Medals, the Navy Achievement Medal, Meritorious Unit Commendation, Naval Reserve Medal, Sea Service Medal, Overseas Deployment Medal, Global War on Terrorism Deployment Medal, and Two national Defense Medals.
In addition to serving our country, Dr. Wolff serves his community by donating his time to the Shrine Club to run screening clinics for their Philadelphia Children's Hospital. He also serves as team Physician for a local high school. Wolff Orthopedics and Sports Medicine provides rural Western Maryland with valuable specialty care and Dr. Wolff performs a variety of surgical and non-surgical procedures that have significantly improved musculoskeletal medicine in western Maryland.
Dr. Wolff has been recognized by his community and his peers by being selected as one of Allegany Countys 20 Most Fascinating People by Allegany Magazine in 2006, and as the Western Maryland Health System's Physician of the Year in 2007. In April, he was also named the 2007 Alumni Recognition Award winner by the Fisher College of Natural and Mathematical Sciences at Towson University. In his spare time, he enjoys the outdoors, including jogging, hiking, camping, snowshoeing and rafting and traces his love of the environment and conservationist conscience to his formative days as a Biology Student at Towson. Aviation has become his passion since moving to Western Maryland. Other hobbies include reading, photography, travel and astronomy.